CTL Series(secondary output mA or 0.333-3.53V,Suitable for measuring the cable current)
The Phoegon CTL series of split core current transformers are designed for fast and easy installation.
The split core design permits non-contact current measurements through magnetic field induction without disconnecting cables circuits for CT installation for safer, easier and portable current measurement.
FEATURES
Lowcost
4 standardsizes
Split core design, safer, easier installation, and
APPLICATIONS
Electrical lines and equipment of current measurement,control  
and protection
Measures AC current flow to electric motors,lighting, aircondition
DIMENSION DRAWING
equipment, etc. Compatible with HVAC temperature control, power        
management, building automation systems.
SPECIFICATIONS
Rated Primary Current:5-400Aac
Rated Second Voltage:0.333Vac
FrequencyRange:50-400Hz
Operating Temperature:-15℃to50℃
Insulating Resistance:100M Ohms @500Vdc
Lead wire
Dielectric Strength:2,500Vac/min
Case Material:nylon,Resin94-V0
Highest Voltage for Equipment Um (rms):≤600Vac
Leads: 240mm (0.8Foot), UL1015, Twisted Pair,34mm²(22AWG),
The length can be customized.
RoHS compliant
ULcompliant
PERFORMANCES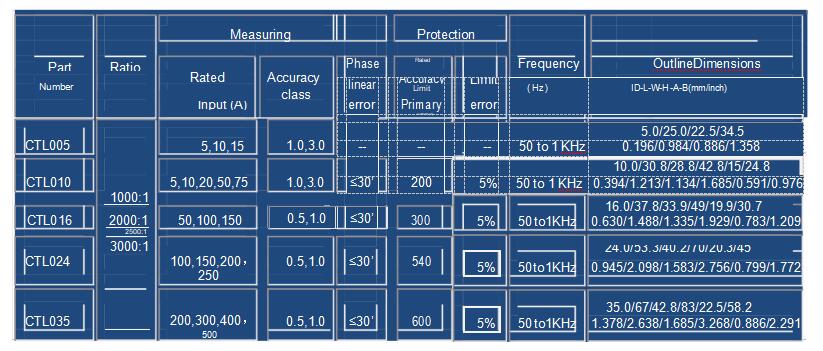 Note:Output voltage signal,recommended priority of 0.333V